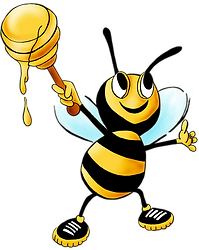 We have some sweet stories to share from the Hive!
We're glad you landed here today, settle in and enjoy a story!
Stagecoach Storytime: Papa and the Pioneer Quilt
Come join us for a wonderful pioneer story. Miss Mimi will be reading for you, she is dressed in her old western period clothing, sitting upon a real old western wagon. Filmed at the Gilman Historic Ranch and Wagon Museum in Banning, CA.
Stagecoach Storytime: Levi Strauss Gets a Bright Idea
Miss Mimi is back with this fun little story about Levi Blue Jeans during the California Gold Rush Days. These miners wore wooden barrels, but really needed some pants! Levi Stauss comes to the rescue with great ideas to help the miners fix their pants problem. Filmed at the Gilman Historic Ranch & Wagon Museum in Banning, CA.

Squirrel Appreciation Day!
WOW 😊 it's National Squirrel Appreciation Day! We see a lot of them at RivCoParks so we're celebrating with a fun squirrel story with Miss Sami. Come enjoy learning a little more about these furry creatures! #SquirrelAppreciationDay
Pijama Storytime: El mitón!
El guardabosques Steve y su perro Endor leerán El Mitón en español el jueves por la noche desde el Centro de la Naturaleza Idyllwild. Ponte tu pijama favorito, toma una taza de chocolate caliente de Abuela y unas palomitas de maíz y prepárate para disfrutar de la clásica historia de invierno The Mitten / El mitón de Jan Brett.
Pajama Storytime: The Mitton
Put on your warm pajamas, grab some hot cocoa and a snack - it's PJ Storytime! Today Miss Sami and her kitty will be reading the winter story classic "The Mitton" by Jan Brett