About Lake Skinner
Nestled in the rolling hills of Winchester, CA, beautiful Lake Skinner Recreation Area offers visitors expansive natural vistas and invigorating recreational opportunities, including camping, picnicking, splash pad, hiking, horseback riding, sailing, and fishing. All boating activities must be non-body contact (no swimming, skiing, etc.)
​For day trips, Lake Skinner offers two shade shelters, picnic benches and barbecues throughout the park for picnics and other gatherings. Camping sites offers picnic benches and fire rings. Most away-from-home needs can be met with a visit to the well-stocked camp store.
Image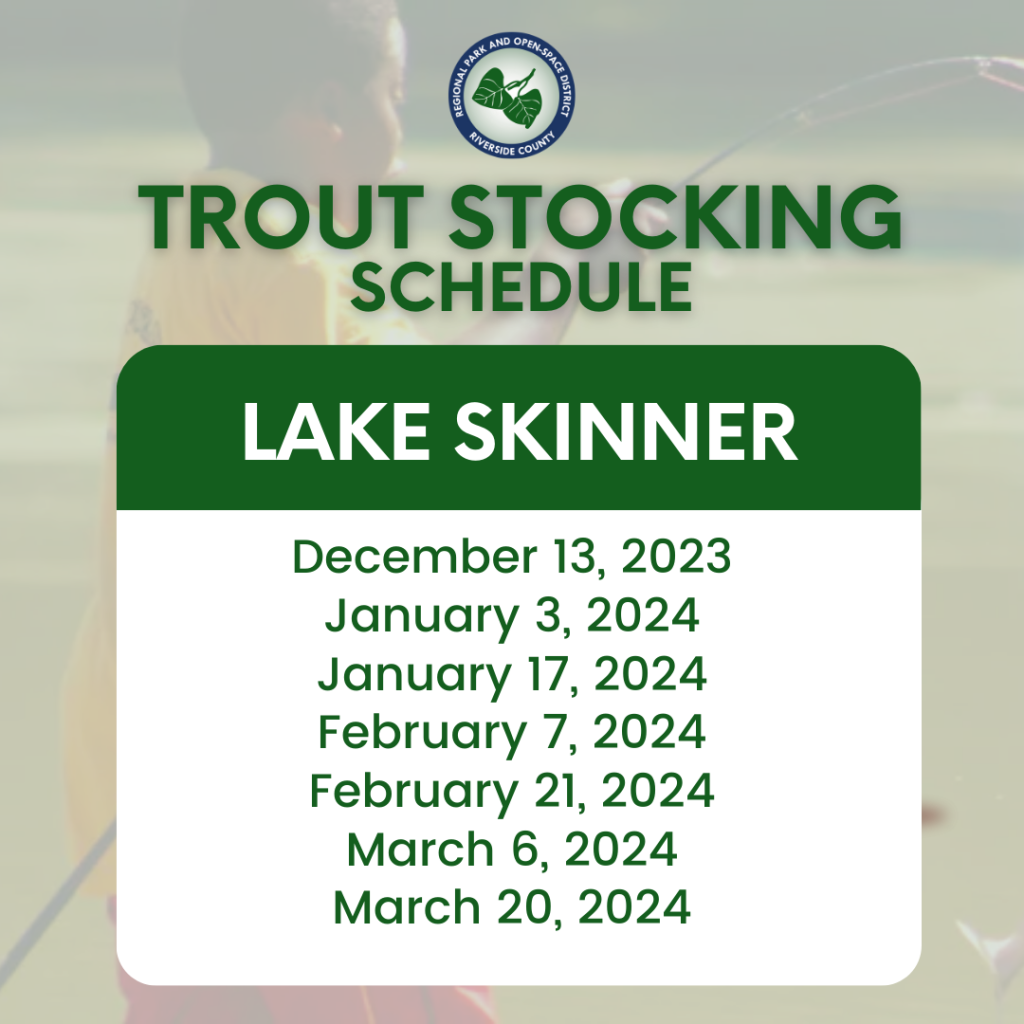 Day Use Hours
6 a.m. to Sunset┃Daily
Camp Hours
6 a.m. to Sunset┃Sunday-Thursday
6 a.m. to 10 p.m.┃Friday-Saturday & Night before Holiday
Splash Pad Hours: Available April 1, 2023 - October 31, 2023
10 a.m. to 5 p.m.┃Tuesday -Sunday & Holiday Mondays (Closed Non-Holiday Mondays for Maintenance)
Camping: $30-50 per night. See our fee card for more information.
Day use: $6 per adult and $3 per child (12 and younger).
Fishing: $10 per adult, per day and $8 per child (12 and younger), per day.
Boat Launch: $7
Pets: $2 per dog, per day.
Sewage Dump Fee: (non-camper): $20.
Current license, registration, and insurance is required when camping. For more information, please contact Guest Services.
199 Full Hook Up Sites (Water, Sewer, and Electricity)

18 Developed Sites (Water and Electricity)

40 Developed Sites (Water Only)

Camp Store

Fishing

Boating

Boat Rentals

Hiking

Biking

Running Trails

Laundry Facilities

Splash Pad

Horseshoe Pits

Showers and Restrooms/Toilettes

Amphitheatre

Group Camping

Playgrounds

Day use shade shelters

Picnic Tables and BBQ's

Annual day use passes available
Bicycle riders must wear helmet

No solid floor tents on grass

No ground fires allowed

Drones are not permitted in the park.

No more than 6 occupants and 2 vehicles per site

Maximum stay of 14 days within a 28-day period

No fireworks

No firearms

Do not remove, deface, or disturb any part of the park features or wildlife

Do not gather firewood in the park

Do not attach anything to trees

Pets must be kept on controlled leashes (Maximum leash length – 6 feet)

Do not leave pet(s) unattended

Clean up promptly after pet(s)

16 and older must have valid State fishing permit

For a full detailed list of our rules please visit this link.
Inspections and decal issuance by appointment only. Call 951-926-1541 to make an appointment.
DON'T MOVE A MUSSEL! Prevent the spread of Quagga and Zebra mussels!
Recreation activities are restricted at Lake Skinner to help prevent the introduction and spread of quagga and zebra mussels:
* No Boats
* No Body Contact/Swimming 
* No Floatation Devices
* Fishing equipment Inspections required upon entry
* Unopened and unused baits only. Baits available on site.
For more information about quagga and zebra mussels, please download this fact sheet and Quagga education pamphlet from CVWD in English & Spanish.
To learn more about RivCoParks' quagga containment and prevention program, please read the full policy Here.
Image